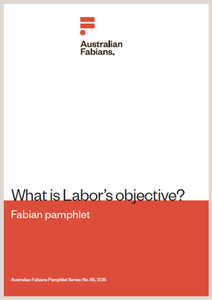 Written by : Chris Bowen, Jenny McAllister & Nick Dyrenfurth 
Date of Publication 2015
About this Publication:
The Australian Labor Party is a democratic socialist party and has the objective of the democratic socialisation of industry, production, distribution and exchange, to the extent necessary to eliminate exploitation and other anti-social features in these fields.In 1921 the Australian Labor Party adopted its so-called 'socialist objective.' This objective has remained in its constitution to this day. There has been considerable debate as to whether the socialist objective should remain or whether the objective should reflect a
different purpose for Labor.

In May 2014 the NSW Fabians were joined by the Shadow Treasurer Chris Bowen, ALP National President Jenny McAllister and Labor historian Nick Dyrenfurth to discuss what Labor's objective and future direction should be.
Acknowledgements:
Gitanjali Pradhananga, Lachlan Drummond & Dr Frank Alafaci
Size
:
A5 
Page count
:
24
Binding type
:
Saddle Stitch
Cover Finish
:
MATTE