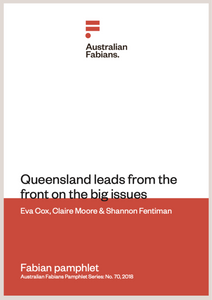 Queensland leads from the front on the big issues
Authors: Eva Cox, Claire Moore, Shannon Fentiman, Brendan Crotty, Wayne Swan, Chris Ketter & Shane Bevis
Year: 2018
About this Pamphlet:
Queensland is at the forefront of progressive ideas in Australia.
Our progressive leaders must use every opportunity to ensure that decisions that are made in 2018 are ones that fundamentally ensure Queensland's vibrant communities are at the forefront. We challenge the proposition that the only way we all succeed is when our economy succeeds.
For Queensland that means taking the lead on the big issues that focus on building better, more equal societies, not just bigger economies.
In this pamphlet, we have asked key Queenslanders to give some perspectives on how Queensland Labor can get to world on building a better society.
The pamphlet will address regional Queensland inequality, economic inequality, access to TAFE and training, reforming local councils, and making a change on abortion rights.