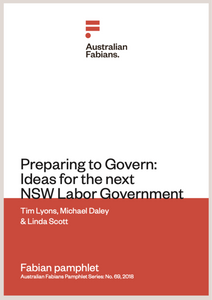 This volume of important essays, a collection of thoughtful, insightful and penetrating insights into New South Wales today and what NSW Labor can prioritise over the next decade.
It is being launched at our Annual Conference, one of the great forums of Australian political life.
It arrives at a time crucial to our futures. We are at a crossroads. Inequality is at a level we haven't seen in decades, with housing, education and healthcare all in crisis. With a government so blinded by doctrinaire ideology it believes the obscene spending of billions of dollars knocking down sports stadiums is progress.
Authors: Tim Lyons, Michael Daley, Linda Scott, John Graham, Emma Dawson, Eva Cox, Adam Searle, Tilly South, Prue Car, Felicity Wade & Labor for the Arts
Year: 2018